Suggested readings week 43/2023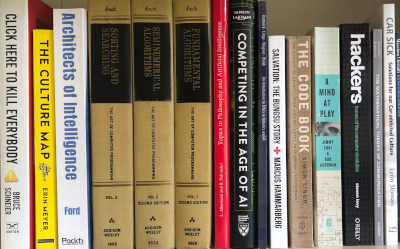 ---
Leadership is not Management, nor Coaching. Leadership as a practice, role and posture has been examined and dissected in a multitude of books and seminars since forever.
Here a totally new approach is suggested, that embraces Empathy and Creativity as traits of the effective Leader. The recently published book by Gianluca Cinquepalmi uses also the word Love, which is interesting and disruptive in this field. Worth reading and having.
What? DNA nano engine? Yes, this is a very small engine (a nano engine) driven by a clever mechanism, the result of a research now published in the Nature Nanotechnology journal.
Long story short, a handful of elliptic curves that modern cryptography is based upon were generated in the late '90s by calculations over seeds (words or numbers) provided by the American National Standards Association (or NSA).
The history of how those now lost seeds got generated contains a mistery, and now a group of scientists and industries decided to announce a bounty for whom might be able to re-discover the values of those seeds. And I really mean discover, because reverse calculating them is (shall be) impossible. This turns out to be is an historical password cracking challenge.
Byte, The Small Systems Journal, was started in 1975 with the dawn of the microcomputer revolution and quickly became a leading computer magazine, known for a wide variety of technical articles and commentary.
A must read for whom is interested at the early advancements of computing for the masses. Byte Magazine was also home to a column written by Jerry Eugene Pournelle (1933-2017), scientist, science fiction writer, essayist, journalist, and one of the first bloggers of the history of the Internet (back in 1998!).
Byte Magazine ceased publication after the July 1998 issue. Before closing, each issue was in the range of 200 to 400 pages. Each month.
The Computer Science of Human Decisions: an exceptional book on how decisions are taken, described in a fascinating review.
When done with reading the review you will want to read the full book, highly recommended!
I find this Google Talk by Clayton Christensen relaxing, super interesting and moving at the same time. Unmissable. I believe he was the first to talk about Job to be Done instead of Propensity to Buy Something.
No fear of theories, because:
a theory is a statement of causality
Scientists have been sounding the alarm over unusual temperatures, but politics have different priorities.